A Miscellany
Researching Canadian Soldiers of the First World War
Worthy items that just don't fit elsewhere …
Perpetuation of CEF Units
As the end of the Great War became a realistic possibility, the Canadian Government knew that it would have to resolve the dilemma of maintaining the memory of the achievements and successes of the Canadian Expeditionary Force.
Recommended Reading
This recommended reading list was started as a result of a discussion on the Canadian Army Mailing List hosted by the (Unofficial) Canadian Army HomePage. It is by no means exclusive or complete.
The Frontenac Times
In memory of the dedicated few who struggled to publish the Wipers Times and all similar papers, I wrote, edited and published "The Frontenac Times" a 4-page weekly newssheet for the amusement of my fellow sufferers at the hands of our Directing Staff at the Canadian Army's staff college (CLFCSC).
In Praise of Infantry
"Let us be clear about three facts. First, all battles and all wars are won in the end by the infantryman."
Naval Toast of the Day
Naval Toasts of the Day
Duties of the CSM and CQMS (1942)
Standing Orders for the Fortress of Halifax, N.S.; 1908
The "Man-in-the-Dark" Theory of Infantry Tactics and the "Expanding Torrent" System of Attack, by Captain B.H. Lidell-Hart, K.O.Y.L.I.
Section Leading; A Guide for the Training of Non-Commissioned Officers as Commanders and Rifle Sections, 1928 (PDF)
Boer War Battles
Subject: Boer War Engagements; requested engagement names were; Leliefontein, Israel's Poort, Sunnyside Kopje, Dornkop, and Kalkheuwel Pass
Researching
Canadian Soldiers
of the First World War
Now available from the
Amazon Kindle Store.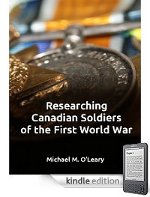 •
•
•
•
•
•
•
•
•
•
•
•
•
•
---
•
•
• - •
Part 2
•
• , by Captain B.H. Lidell-Hart, K.O.Y.L.I.