Researching Canadian Soldiers of the First World War
By Michael O'Leary; The Regimental Rogue
Part 1: Find Your Man (or Woman)
This page introduces the availability of CEF soldiers' service records at Library and Archives Canada (LAC). Beginning in late 2013, LAC has started to place groups of files out of circulation as they start to digitize all of these records.
Digitization of Canadian Expeditionary Force Service Files
From Library and Archives Canada website:
The digitization of the Canadian Expeditionary Force (CEF) service files is underway and a substantial number of digitized files have been added to our website as part of the Government of Canada First World War commemoration activities. We will add new files every two weeks, as the CEF digitization initiative is a priority for us. LAC will ensure that Canadians have access to the files throughout the digitization process, scheduled to be completed by the end of 2018.
For statistics and information about this digitization project, please consult LAC's monthly updates on the Discover blog.

Canadian soldiers' service records for the First World War are held by the Library and Archives Canada (LAC). For researching soldiers of the First World War, the place to start is the Soldiers of the First World War (1914-1918) database.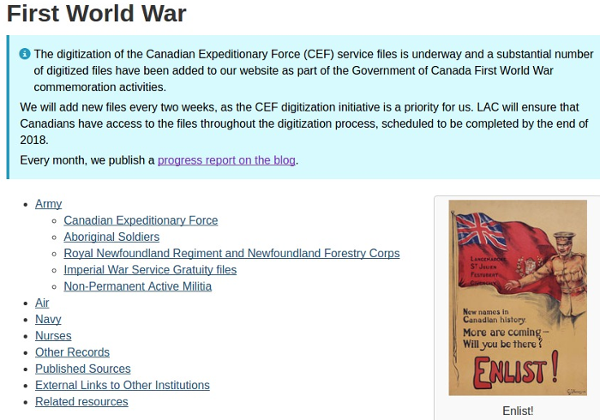 The introduction page at the Library and Archives Canada Soldiers of the First World War (1914-1918) database.
Using the search form, look for your soldier by name. Unique or rare combinations of surname and given names will be rather easy to find in the database, for example, there's only one man named "Gladiator." For more common names a little more effort may be required, in contrast to the lone Gladiator there are 6955 entries for the surname "Smith" and 676 of those have the given name "John." Use full given names to search when known, or use initials with an asterisk "J*" if the initial is known but it is not certain what the given name is, or how it might have been entered on the soldier's Attestation Papers (ex. "J*" for John, Jean, Jack).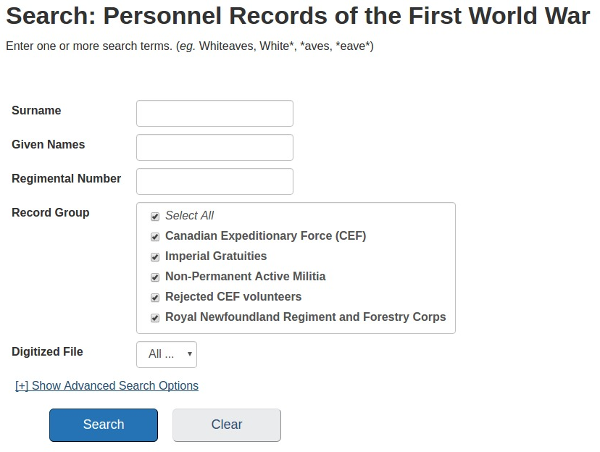 The search form at the Library and Archives Canada Soldiers of the First World War (1914-1918) database.
As you can see in the results table below, your search can be much assisted if you know the soldier's service number and given names. The service number can be found on any surviving documents you might have, such as a discharge certificate, or it can be found on the back or bottom edge of his medals if you have them.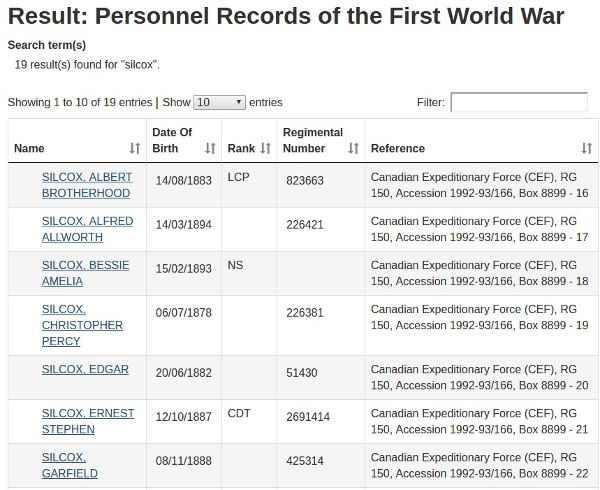 An example of results returned when searching on a surname (Silcox).
If your name search still leaves you will multiple possibilities, and you don't have a service number, all is not lost. When you have a "short list" of possibilities, such as men all with the same given names, try to narrow your choices by the birthdate. Note that those without a service number listed were officers, although officers who also served as soldiers before their commissioning will often be shown with a service number in the LAC database record. One further method to distinguish between similarly named individuals is to go to each record and look at the linked Attestation Paper. the front of the paper will include next of kin, place of birth, and home town at the time of enrolment. It should be possible to match any or all of these details to previously known family history and confirm the appropriate record.
If your attempts to narrow the field are still frustrated, consider the following possibilities:
Try alternative surname spellings. Not all men were literate and the forms were often filled out by officers or clerks who did their best, but may not have gotten it right. This can be as simple as mixing up "Mc" and "Mac" or as complex as a semi-phonetic spelling of an Eastern European surname.
Your soldier may have enlisted and served under an assumed name. There are many reasons for this, but it may require some extra family research before returning to the LAC database wth new possibilities.
A typographical error with a service number reference. Are you using an old hand-written note? There is even the (very slim) possibility that medals have the service number incorrectly impressed, it has been known to happen. Search separately for name and number to see other possible results.
Lastly, you may have to consider that perhaps the family stories of war service aren't true. Or maybe they are, but his service was not with a Canadian unit. In either case, there would be no entry in the LAC database.
There is an advanced serch option, but the data behind it is being populated as the LAC scans the First World War service records and may not be complete for your search..
Hopefully with few problems, you will quickly be led to the correct LAC database record for you ancestor.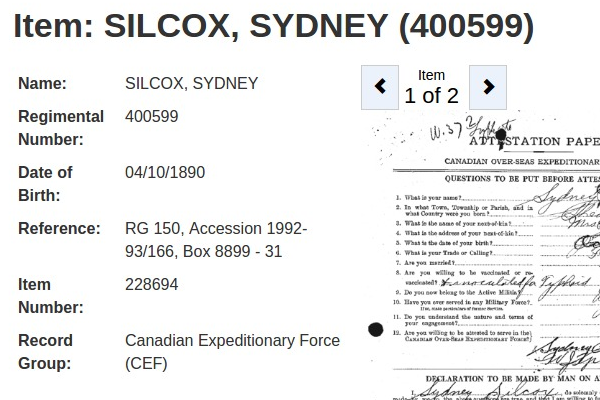 An example of an individual record in the Library and Archives Canada Soldiers of the First World War (1914-1918) database.
The record will provide links to scans of the soldier's Attestation Paper. About 90% of the soldiers of the Canadian Expeditionary Force have their attestation papers on line. The remainder simply weren't among the mass files of Attestation Papers that were scanned when the database was built, but copies will be in the individual service record files.
The Attestation Paper will probably provide you first lok at new information on your ancestor. There are two different documents linked with records. Most will have the Canadian Overseas Expeditionary Force Attestation Paper (example). Others, conscripts, will have a single-sided form showing that they were Drafted Under [the] Military Service Act, 1917 - Particulars of Recruit (example).
The individual record page on the LAC database will also provide a link to instructions for ordering the soldier's service record. These instructions are reproduced below:
Library and Archives Canada
Soldiers of the First World War (1914-1918) database
How to Access a Service File
The digitization of the Canadian Expeditionary Force personnel service files is in progress. The original paper documents can no longer be consulted. However, digital reprography is available for those files that have not yet been prepared for digitization. Newly digitized files are added to the Soldiers of the First World War database, every two weeks until the project's completion in 2016.
Please check the database regularly for new additions. If an individual's file has been digitized, a link to the file will appear to the right of his or her attestation papers.
If you still have questions after having checked the database, you may contact us at 1-866-578-7777 (option 8).
Project updates will also be shared via the Library and Archives Canada Blog on the 15th of every month.
For more information on this initiative, please consult the Fact Sheet: Digitization of Canadian Expeditionary Force Service Files.
How to order copies
Price List and Service Standards

Please cite the full archival reference as it appears in the database.

Example:

COOPER, ADAM PORTER
Regimental number: 328870 (or rank if the individual was an officer)
Reference: RG 150, Accession 1992-93/166, Box 1965-1

Please consult the following section, if you are having problems identifying the correct file.
In brief, files will cost 40 cents per page plus postage and each file may be between 25 and 75 (on average). Once the LAC has your order, either by letter, facsimile or through their on-line ordering system, it can take four to six weeks to receive the records. (This time can increase if they are backlogged, as they can be around Remembrance Day or other times when people's interest in researching their soldiers ancestors is piqued. Ordering a digital copy may reduce your wait time.
One final point for your consideration. It may be recommended that you request "only" a genealogical package which will focus on record of service documents. Having handled a number of service records I would caution against this choice. Although many of the documents omitted in the genealogical package will be of little value, others may (and I stress may) hold clues for further research. Details on medical documents or a next-of-kin's address on a pay ledger may be a valuable clue for further family research.
The next step, exploring the service record, will have to wait until you have the service record in hand, but please, read on.
Researching Canadian Soldiers of the First World War