Researching Canadian Soldiers of the First World War
Part 3: Court Martial Records
By Michael O'Leary; The Regimental Rogue
While it may not be the best news to discover that your ancestor was court martialled during the First World War, it does present an advantage to researching the soldier's wartime experiences. Like the service records, court martial files have survived the threats of bureaucratic house-cleaning and are available through Library and Archives Canada (LAC). These records can be ordered, similar to service records, through the LAC website starting with the Courts-Martial of the First World War database.
Even if you don't think your ancestor was court martialled, and there's no mention in his service record, it is still a worthwhile exercise to confirm with searches by name and service number.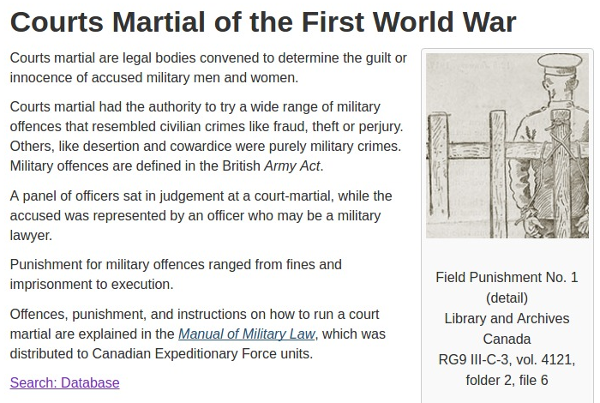 The introduction page at the Library and Archives Canada Courts-Martial of the First World War database.
Searching for a soldier in the Courts Martial data base may be done by name, regimental (service) number, or unit. The soldier's service number, if not already known from the Soldiers of the First World War (1914-1918) database, can be found on any surviving documents you might have, such as a discharge certificate, or it can be found on the back or bottom edge of his medals if you have them.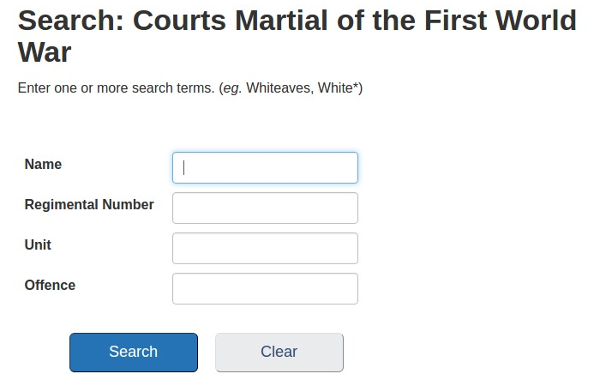 The search form at the Library and Archives Canada Courts-Martial of the First World War database.
Searches of the Court Martial database may also be made using the asterisk as a wildcard character, for example searching for "Curr*" to find both "Currie and "Curry".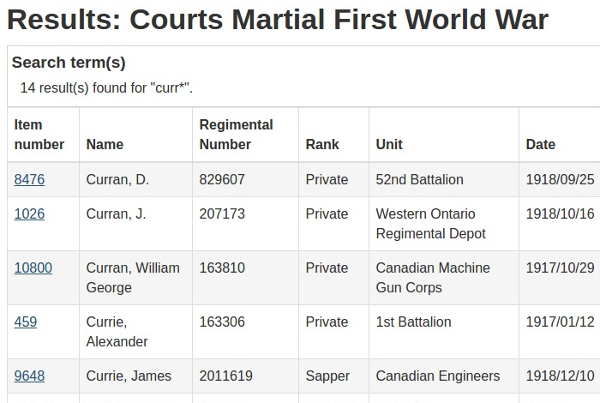 An example of results returned when searching on a surname with widcard (Curr*).
Once an individual record is found, the details for that database record will include the file reference for ordering the court martial file. These instructions are reproduced below: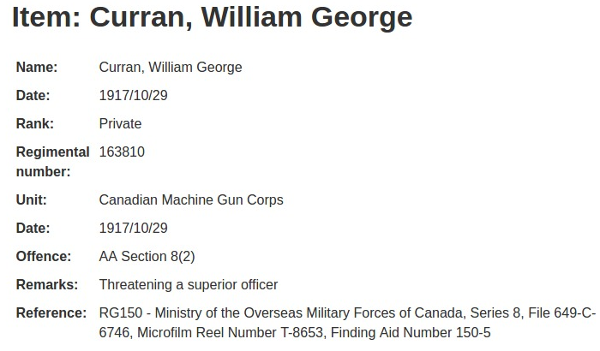 An example of an individual record in the Courts martial database (Private William George Curran).
With the details for the individual record, files may be ordered using the same system as for service records. These instructions are reproduced below:
Library and Archives Canada
Soldiers of the First World War (1914-1918) database
How to order a copy of a complete service file
Most of the attestation papers have been digitized and appear online in the database.
The service files are paper originals. Beginning in May 2010, Library and Archives Canada has started to add digitized copies of the files to the database to make them more accessible, to help preserve the originals and to avoid copying the same file more than once.
For files not yet digitized, you can order photocopies or scanned images. The cost is the same. When a photocopy or digital copy is requested, the complete file will be scanned and the digital images will be added to the database the next time it is reloaded. In this way, all Canadians can help contribute to the preservation of our country's military heritage.
Due to the large volume of inquiries we receive, we are unable to provide a service for selecting and copying specific documents from within a file; we only provide copies of complete file. As well, the documents are not paginated and we cannot undertake page counts of files prior to ordering. However, most Canadian Expeditionary Force service files contain an average of 25 to 75 pages, with those for personnel who were drafted or enlisted later in the war typically having smaller files. They are open to the public without access restrictions.
How to order copies
See: Price List and Service Standards - Photocopy
• To obtain the students or seniors citizens (65 years of age and over) reduced rates, you must send a photocopy of your ID card with your written request or present your ID card to the staff when placing your request in-person.
Orders can be placed using our secure online Order Form for Photocopies and Reproductions, or by mail or fax. Please include your credit card number and the expiry date.
Reproduction Services
Library and Archives Canada
395 Wellington Street
Ottawa, ON K1A 0N4
Fax: 613-995-6274
• We do not accept orders for copies by email as we cannot guarantee security for your credit card information. However, our online Order Form for Photocopies and Reproductions is secure.
Cite the full archival reference as it appears in the database.
Example:
COOPER, ADAM PORTER
Regimental number: 328870 (or rank if the individual was an officer)
Reference: RG 150, Accession 1992-93/166, Box 1965-1
If you are having problems identifying the correct file, please consult this section.
As for service records, files will cost 40 cents per page plus postage. Once the LAC has your order, either by letter, facsimile or through their on-line ordering system, it can take four to six weeks to receive the records. (This time can increase if they are backlogged, as they can be around Remembrance Day or other times when people's interest in researching their soldiers ancestors is piqued. Ordering a digital copy may reduce your wait time.
Court martial files can be 12-40 pages, depnding on how many witnesses were heard and how much testimony was recorded. They will include all of the documents of the proceedings including witness statements as given to the court.
Part 4 - War Diaries and Unit Histories.
Researching Canadian Soldiers of the First World War