The Royal Canadian Regiment and
The First World War - 1914-1919
Orange Hill Cemetery
Orange Hill Cemetery lies due north of Tilloy les Mofflaines, a village in the Pas-de-Calais Department of France, and 3 kilometres south-east of Arras along the D939 road. From Tilloy les Mofflaines, take the D939 towards Cambrai until you come to a roundabout with a junction for the D37 towards Feuchy. Follow this road for 2 kilometres, then take a track to the east towards the cemetery.
For more information - CWGC
Royal Canadians buried at the Orange Hill Cemetery are listed below.
Regt. No.
Rank.
Given Names.
Surname.
Date of Death.
Remarks.
CVWM/CWGC Link; Grave Ref.
A/Capt.
Thorburn Stephens
ALLAN
26-Aug-18
MC
CVWM
B. 17.
Lieut.
Arthur Milton
FRASER
26-Aug-18
CVWM
B. 16.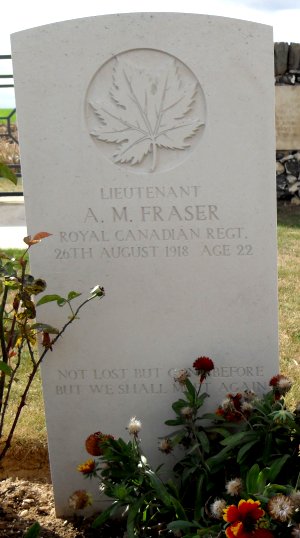 Photos by R. Lindsay; a member of the Canadian Expeditionary Force Study Group.
Pro Patria