The Royal Canadian Regiment and
The First World War - 1914-1919
Puslinch (Crown) Cemetery
Southeast of Guelph, the cemetery is 500 metres north of Highway 401 on Highway 6.
For more information - CWGC
Royal Canadians buried at the Puslinch (Crown) Cemetery are listed below.
Regt. No.
Rank.
Given Names.
Surname.
Date of Death.
Remarks.
CVWM/CWGC Link; Grave Ref.
Lieut.
John William
MUNRO
10-Aug-18
Accidentally killed while with the R.A.F. (44 Wing)
CVWM
Grave Ref: N/A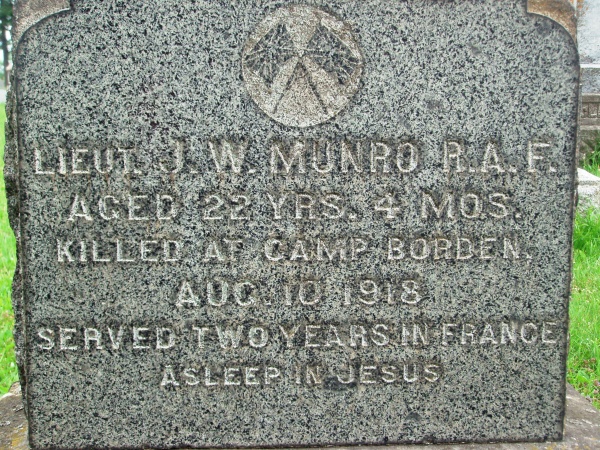 Photos by K.L. Hodgins.
For grave location: Drive in the south access to the cemetery (closest to the 401). Drive past the caretaker's house, to the small chapel on site. Turn left (north) and go roughly 40 feet, until you see the marker for "Ross". Look north-north-west and you will see a cluster of "Munro" markers.
Pro Patria