The Royal Canadian Regiment and
The First World War - 1914-1919
Manchester Southern Cemetery
.
For more information - CWGC
Royal Canadians buried at the Manchester Southern Cemetery are listed below.
Regt. No.
Rank.
Given Names.
Surname.
Date of Death.
Remarks.
CVWM/CWGC Link; Grave Ref.
455308
Pte
James Arthur
REYNOLDS
28-Oct-18
MM
CVWM
S. 105.
Photos by Jason Jeandron, MPhil., APA member — Archaeological Prospectors, Fredericton, New Brunswick, Canada.
---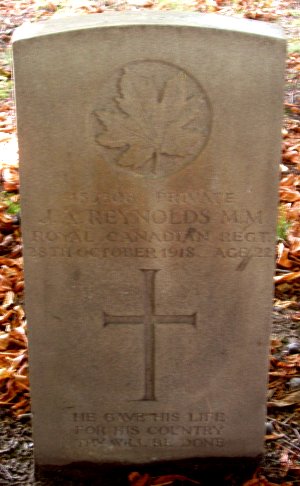 Photo by Peter Bennett; a member of the Great War Forum.
Pro Patria