The Royal Canadian Regiment and
The First World War - 1914-1919
Mezieres Communal Cemetery
Mezieres is a village and commune in the Department of the Somme, on the south-west side of the main road from Amiens to Roye, 20 kilometres south-east of Amiens. The Cemetery is on the south-west side of the Communal Cemetery.
For more information - CWGC
Royal Canadians buried at the Mezieres Communal Cemetery are listed below.
Regt. No.
Rank.
Given Names.
Surname.
Date of Death.
Remarks.
CVWM/CWGC Link; Grave Ref.
739120
Cpl
Alfred
INGALLS
08-Aug-18
CVWM
D. 2.
878412
Pte
Anastoseus
POULIS
08-Aug-18
CVWM
B. 17.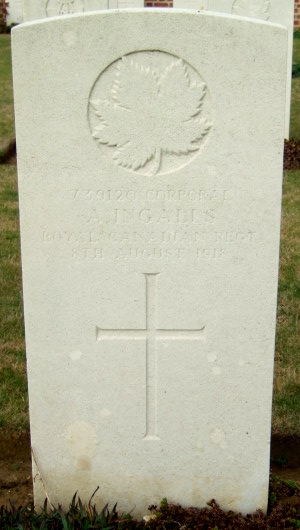 Photos by Martin Harvey; a member of the Great War Forum.
Pro Patria