The Royal Canadian Regiment and
The First World War - 1914-1919
Longueau British Cemetery
The town of Longueau is situated on the south-eastern outskirts of Amiens and the British Cemetery is on the eastern side of the town. Leave the Amiens orbital bypass at Junction 34 towards Longueau on the N29. The cemetery is located on the left hand side of this road approximately 1 mile after leaving the bypass.
For more information - CWGC
Royal Canadians buried at the Longueau British Cemetery are listed below.
Regt. No.
Rank.
Given Names.
Surname.
Date of Death.
Remarks.
CVWM/CWGC Link; Grave Ref.
479059
Pte
Charles Hedley
FULTON
08-Aug-18
CVWM
III. E. 2.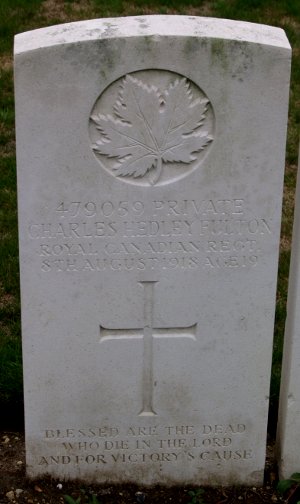 Photos by Peter Bennett, a member of the Great War Forum
Pro Patria