The Royal Canadian Regiment and
The First World War - 1914-1919
Courcelette British Cemetery
Courcelette is a village some 10 kilometres north-east of the town of Albert, just off the D929 road to Bapaume. The Cemetery, signposted in the village, is approximately 1 kilometre west of the village on the south side of a track (suitable for cars) from the secondary road from Courcelette to Pozieres./p>
For more information -CWGC
Royal Canadians buried at the Courcelette British Cemetery are listed below.
Regt. No.
Rank.
Given Names.
Surname.
Date of Death.
Remarks.
CVWM/CWGC Link; Grave Ref.
477139
Pte
William Herbert
CALVERT
16-Sep-16
CVWM
VII. E. 10.
478918
Pte
Joseph
DINGSDALE
02-Oct-16
CVWM
XII. D. 13.
477456
A/Sgt
James
JAMES
08-Oct-16
CVWM
VII. F 16.
440526
Pte
William
LOGUE
16-Sep-16
CVWM
VIII. E. 16.
477650
Sgt
Norman Harold
McLENNAN
08-Oct-16
CVWM - Confirmed to be buried in this cemetery by CWGC in 2016.
VIII.E.15
477756
Pte
Joseph
RANDALL
16-Sep-16
CVWM
VIII. E. II.
478681
Pte
George
RITCHIE
16-Sep-16
CVWM
II. A. 20.
228445
Pte
Robert John Alexander
SCOTT
08-Oct-16
CVWM
X. A. 9.
477879
L-Cpl
Armiger
STEVENSON
16-Sep-16
CVWM
VII. G. 8.
401288
Pte
Harry Richard
TUDDENHAM
16-Sep-16
CVWM
VII. G. 25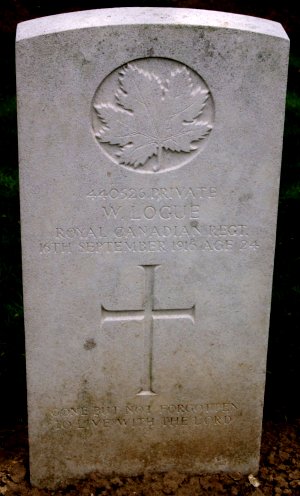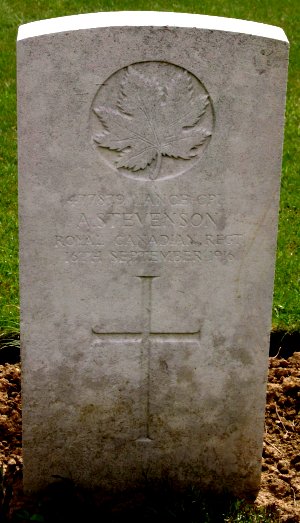 Photos by Peter Bennett, except for Pte Ritchie which was taken by Robert Pike. Both photographers are members of the Great War Forum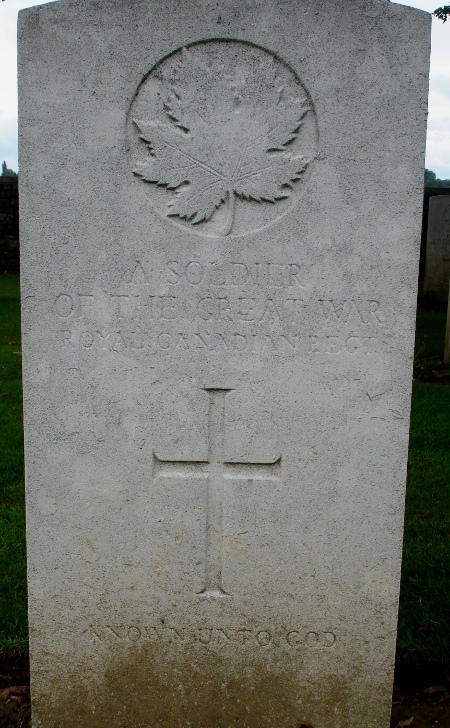 CWGC headstone for an unknown soldier of The Royal Canadian Regiment, buried at Courcelette British Cemetery.
Photos by CWO Grant Furholter.
Pro Patria