The Royal Canadian Regiment and
The First World War - 1914-1919
Contay British Cemetery
Contay is a village on the main road, Amiens to Arras. The Cemetery lies on the left (north east) side of the road to Franvillers. There is a CWGC road sign next to the church and square of the village and next to the D23, Franvillers - Corbie, sign. The distance from the CWGC sign to the Cemetery is approximately 650 metres.
For more information -CWGC
Royal Canadians buried at the Contay British Cemetery are listed below.
Regt. No.
Rank.
Given Names.
Surname.
Date of Death.
Remarks.
CVWM/CWGC Link; Grave Ref.
477027
A/L-Cpl
Stanley Francis
BAJUS
17-Sep-16
CVWM
I. C. 17.
477342
Pte
Arthur Peter
GIFFORD
12-Sep-16
CVWM
I. D. 11.
460324
Pte
Roderick Ross
JONES
04-Oct-16
CVWM
I. F. 21.
455161
Pte
Joseph
KING
03-Oct-16
CVWM
II. E. 20.
454062
Pte
George Frederick
KING
18-Sep-16
CVWM
II. B. 27.
478530
Pte
Edward
McDONALD
02-Oct-16
CVWM
II. E. 12.
477615
Pte
Joseph
MULCAHY
17-Sep-16
CVWM
II. C. 1.
228491
Pte
George Robert
O'DONNELL
06-Oct-18
CVWM
II. E. 8.
455657
Pte
Ernest William
PARTRIDGE
09-Oct-16
CVWM
IV. A. 10.
488293
Pte
James Edward
STICKELS
09-Oct-16
CVWM
IV. A. 8.
477927
Pte
Henry
TREUSCH
17-Sep-16
CVWM
I. C. II.
477953
Pte
Eddie
WALL
17-Sep-16
CVWM
I. C. 22.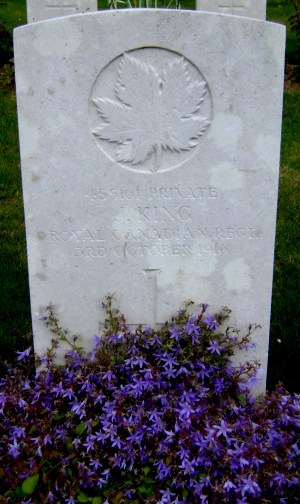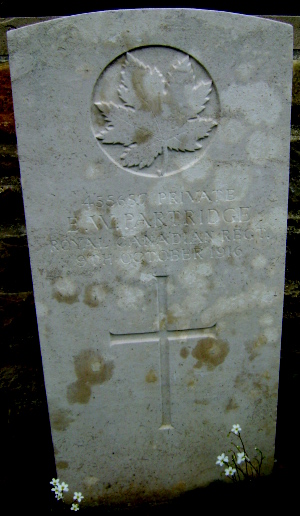 All photos by Avalon Eastman except for Pte Stickels, which was taken by Robert Pike, both are members of the Great War Forum.
Pro Patria