The Royal Canadian Regiment and
The First World War - 1914-1919
Ste. Marie Cemetery
Ste. Marie Cemetery is one of the town cemeteries, but it is actually situated in the commune of Graville-St. Honorine. It stands on the ridge overlooking Le Havre from the north and is north of the N.182.
For more information - CWGC
Royal Canadians buried at the Ste. Marie Cemetery are listed below.
Regt. No.
Rank.
Given Names.
Surname.
Date of Death.
Remarks.
CVWM/CWGC Link; Grave Ref.
552744
Pte
Alexander
REMINGTON
23-Oct-16
CVWM
Div. 3. N. 4.
455593
Pte
Harry James
WILLIAMS
03-Aug-16
CVWM
Div. 3. C. 10.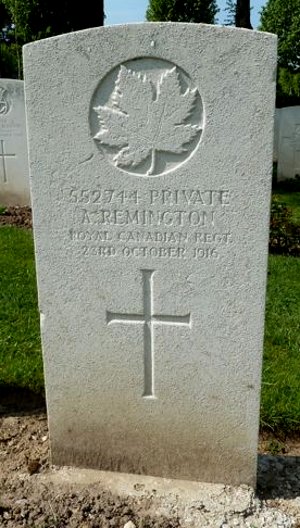 Photos by Laura Smith.
Pro Patria