The Royal Canadian Regiment and
The First World War - 1914-1919
Terlincthun British Cemetery
Terlincthun British Cemetery is situated on the northern outskirts of Boulogne. From Calais follow the A16 to Boulogne, come off at Junction 3 and follow the D96E for Wimereux Sud. Continue on this road for approximately 1 kilometre when the Cemetery will be found on the left hand side of the road. However, it should be noted that the entrance to the cemetery is in St Martin's Road, which is the road on the left immediately after the cemetery.
For more information - CWGC
Royal Canadians buried at the Terlincthun British Cemetery are listed below.
Regt. No.
Rank.
Given Names.
Surname.
Date of Death.
Remarks.
CVWM/CWGC Link; Grave Ref.
477436
Pte
William
HUGHES
07-Oct-18
CVWM
IV. F. 29.
440081
Pte
Leonard Frederick
MASON
12-Sep-18
CVWM
III. E. 13.
Photo by Maj G., while serving at SHAPE HQ in Mons, Belgium.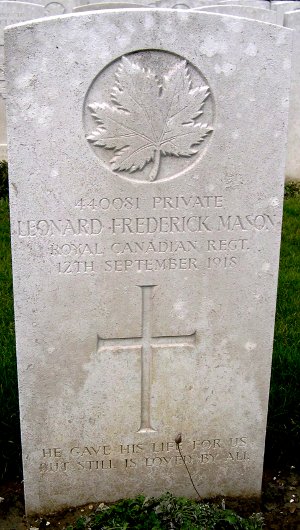 Photo by Robert Pike, a member of the Great War Forum.
Pro Patria