The Royal Canadian Regiment and
The First World War - 1914-1919
Sucrerie Cemetery, Ablain St.-Nazaire
Ablain-St Nazaire is a village approximately 13 kilometres north of Arras. Take the D937 (Bethune Road) to the village of Souchez. Make a left turn along the D57. The cemetery lies 1 kilometre on the left side of this road.
For more information - CWGC
Royal Canadians buried at the Sucrerie Cemetery, Ablain St.-Nazaire are listed below.
Regt. No.
Rank.
Given Names.
Surname.
Date of Death.
Remarks.
CVWM/CWGC Link; Grave Ref.
715142
Pte
Thepohile Edmund
ARSENAULT
10-Mar-18
CVWM
II. D. 14.
455845
Pte
William Hope
WALLACE
19-Apr-18
CVWM
IV. A. 12.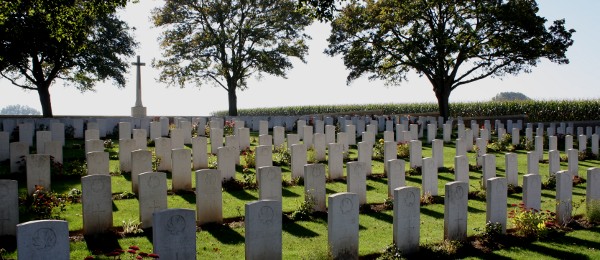 Photos by a friend of Rémy Deruelle, who is a member of the Great War Forum.
Photos by Fred Killick, and provided to The Regimental Rogue by Peter Bennett, a member of the Great War Forum. (Frederick Killick, a former member of the Australian Army and a Veteran of the Vietnam War, died in France on 15 Jan 2013 at the age of 71 years.)
---
Photos by Robert Pike, a member of the Great War Forum.
Pro Patria