The Royal Canadian Regiment and
The First World War - 1914-1919
St. Pol Communal Cemetery Extension
The town of St Pol is about 29 kilometres south-west of Bethune and 34 kilometres west-north-west of Arras. The Communal Cemetery Extension is situated on high ground next to the old Communal Cemetery and is reached by a steep road, Rue de Cimetiere, on the north side of the old N39 road to Arras.
For more information - CWGC
Royal Canadians buried at the St. Pol Communal Cemetery Extension are listed below.
Regt. No.
Rank.
Given Names.
Surname.
Date of Death.
Remarks.
CVWM/CWGC Link; Grave Ref.
261661
Pte
Robert Frederick
BOURNS
10-Apr-17
CVWM
E. 34.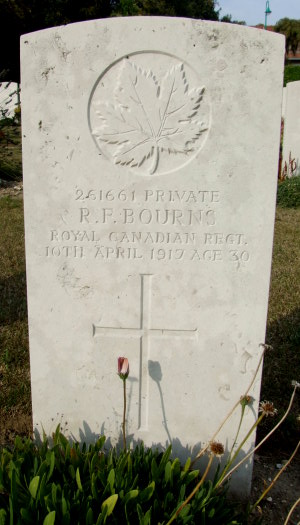 Photo courtesy of British War Graves.
Pro Patria