The Royal Canadian Regiment and
The First World War - 1914-1919
Lapugnoy Military Cemetery
Lapugnoy is a village 6 kilometres west of Bethune. From the centre of Lapugnoy, head south-west on the D70 in the direction of Marles-les-Mines. On the outskirts there is a crucifix at the side of the main road, turn right here towards Allouagne. After approximately 500 metres there is a track on the left hand side (the Cemetery is signposted here) and the Cemetery can be found on the left hand side, approximately 500 metres, along this track.
For more information -CWGC
Royal Canadians buried at the Lapugnoy Military Cemetery are listed below.
Regt. No.
Rank.
Given Names.
Surname.
Date of Death.
Remarks.
CVWM/CWGC Link; Grave Ref.
734126
Pte
Eugene Edwin
COMEAU
28-Aug-17
CVWM
V. E. 7.
814664
Pte
George
CRUICKSHANK
10-Apr-17
CVWM
III. A. 2.
477214
Pte
George Franklin
CURRIER
25-May-17
CVWM
IV. B. 12.
Lieut.
Edward Frank
DAVIS
09-Jun-17
CVWM
IV. B. 17.
477273
Pte
William Daniel
EASTMAN
18-Apr-18
CVWM
VIII. D. 14.
406311
Pte
William
HAINSWORTH
27-Jul-17
CVWM
V. A. 10.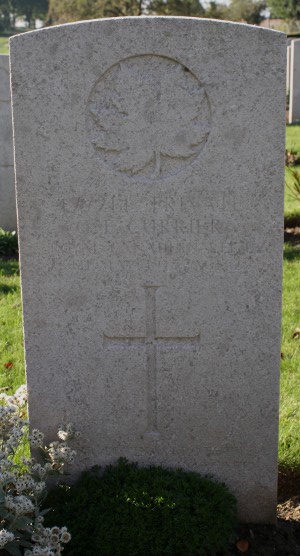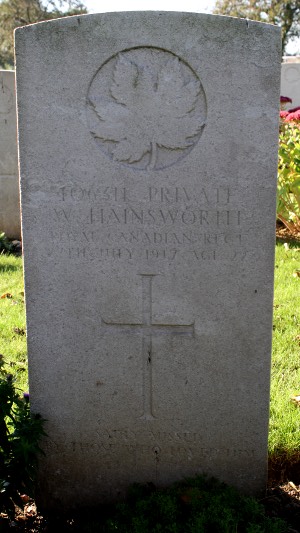 Photos by a friend of Rémy Deruelle, who is a member of the Great War Forum, and Robert Pike, a member of the Great War Forum.
Pro Patria