The Royal Canadian Regiment and
The First World War - 1914-1919
Dury Crucifix Cemetery
Dury is a village about 17 kilometres east-south-east of Arras. Travelling from Arras Centre, take the N39 Arras-Cambrai road for approximately 16.5 kilometres, where you turn left along D956. On this road take the first right fork of the Y Junction at 900 metres. Take the first right at 650 metres. The cemetery lies on the left side of this road 100 metres from the junction.
For more information - CWGC
Royal Canadians buried at the Dury Crucifix Cemetery are listed below.
Regt. No.
Rank.
Given Names.
Surname.
Date of Death.
Remarks.
CVWM/CWGC Link; Grave Ref.
Lieut.
Lloyd Ernest
LONGLEY
26-Aug-18
CVWM
I. C. 27.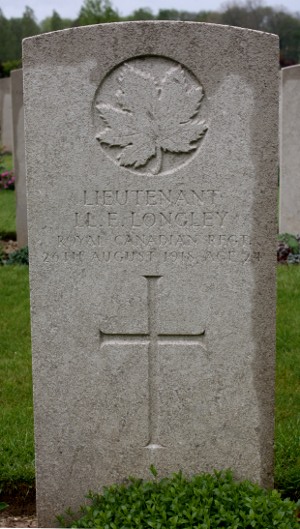 Lieut Longley's gravestone in the Dury Crucifix Cemetery.
Canadian memorial at Dury, located about 4 km from the Cemetery.
Photos by Maj G., while serving at SHAPE in Mons Belgium.
Pro Patria