The Royal Canadian Regiment and
The First World War - 1914-1919
Bruay Communal Cemetery Extension
Bruay is a large village in the Department of the Pas-de-Calais, 6 kilometres south-west of Bethune and 26 kilometres north-west of Arras. Leave Bruay on the N.41 (Bethune/St Pol road). Turn right where signposts indicate Lens/Calonne-Riquart. After 400 metres turn right again, sign Cimetiere Ouest. Continue up the hill past the minor memorial. The cemetery is found after one kilometre on the right hand side. The Commonwealth plot is in the far right hand corner.
For more information - CWGC
Royal Canadians buried at the Bruay Communal Cemetery Extension are listed below.
Regt. No.
Rank.
Given Names.
Surname.
Date of Death.
Remarks.
CVWM/CWGC Link; Grave Ref.
478873
Pte
Charles Alfred
HUNTER
22-Aug-17
CVWM
K. I.
1033295
Pte
Ludwig
LUKANDER
10-Jun-17
CVWM
G. 35.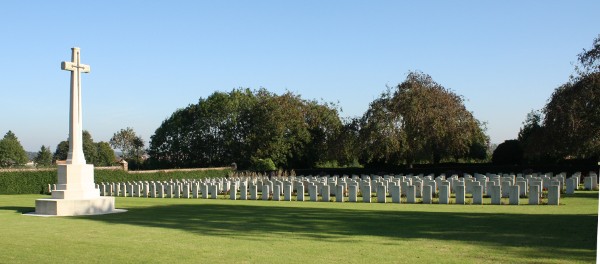 Photo by a friend of Rémy Deruelle, who is a member of the Great War Forum.
Photos by Fred Killick, a friend of Peter Bennett, who is a member of the Great War Forum. (Frederick Killick, a former member of the Australian Army and a Veteran of the Vietnam War, died in France on 15 Jan 2013 at the age of 71 years.)
Pro Patria