The Royal Canadian Regiment and
The First World War - 1914-1919
Barlin Communal Cemetery
Barlin is a village about 11 Kms south-west of Bethune on the D188, between the Bethune-Arras and Bethune-St. Pol roads, about 6.5 Kms south-east of Bruay. The Communal Cemetery and Extension lie to the north of the village on the D171 road to Houchin.
For more information -CWGC
Royal Canadians buried at the Barlin Communal Cemetery are listed below.
Regt. No.
Rank.
Given Names.
Surname.
Date of Death.
Remarks.
CVWM/CWGC Link; Grave Ref.
479015
Pte
William Alvarez
BRADLEY
11-Aug-17
CVWM
II. C. 35.
477197
Sgt
Sidney Charles
CORNFORTH
11-Apr-17
CVWM
I. H. 5.
817415
Pte
Clifford
DOUCET
11-Apr-17
CVWM
I. H. 25.
Capt.
Daniel Ellsworth
MUNN
18-Apr-17
CVWM
II. A. 2.
733255
Pte
Charles
RITCHIE
08-Jun-17
CVWM
III. C. 4.
733781
Pte
Edwin Guy
VROOM
08-Jun-17
CVWM
III. C. 2.
817189
Pte
Donald Herbert
WALSH
13-Apr-17
CVWM
I. H. 58.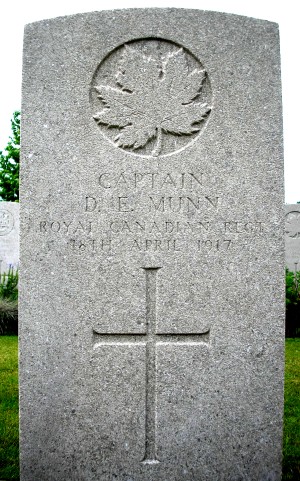 Photos by Steve Clarkson; a member of the Great War Forum.
Pro Patria