The Royal Canadian Regiment and
The First World War - 1914-1919
Valenciennes (St. Roch) Communal Cemetery
Valenciennes (St Roch) Communal Cemetery is situated on the north-east side of Valenciennes, about 1.5 kilometres from the centre. It is on the north side of the road to Bruay-sur-L'Escaut.
For more information -CWGC
Royal Canadians buried at the Valenciennes (St. Roch) Communal Cemetery are listed below.
Regt. No.
Rank.
Given Names.
Surname.
Date of Death.
Remarks.
CVWM/CWGC Link; Grave Ref.
3204183
Pte
George
ARSENAULT
22-Oct-18
CVWM
II. E. 8.
3180092
Pte
Archie Peter
DOWNEY
22-Oct-18
CVWM
II. E. 7.
3204245
Pte
George Urville
ELLANDS
23-Oct-18
CVWM
II. D. 26.
3181461
Pte
Avard Reginald
MADER
22-Oct-18
CVWM
II. E. 9.
877992
Pte
Archibald Andrew
McLELLAN
11-Nov-18
MM
CVWM
I. D. 8.
734528
Pte
Clarence Melvin
SHOLDS
11-Nov-18
CVWM
I. C. 22.
3181140
Pte
John Joseph
TOBIN
23-Oct-18
CVWM
II. D. 22.
478699
L-Cpl
Clarence Alden
WATERMAN
25-Oct-18
MM
CVWM
II. D. 27.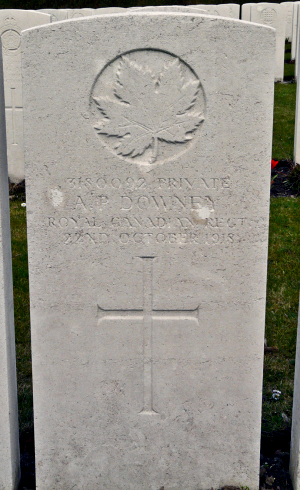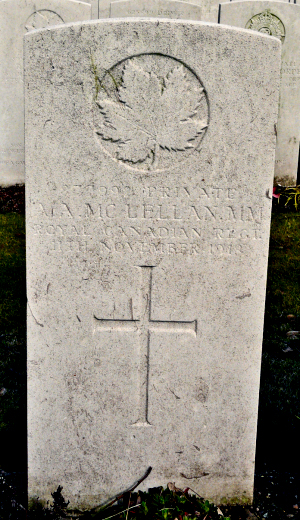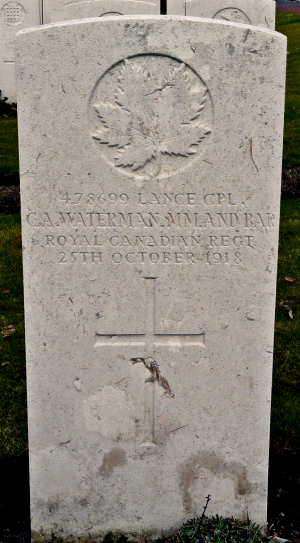 Photos by Alain Dubois, a member of the Canadian Expeditionary Force Study Group
Pro Patria