The Royal Canadian Regiment and
The First World War - 1914-1919
St. Olle British Cemetery
St. Olle is a village in the Department of the Nord 1 kilometre west of Cambrai on the main road towards Arras. From Cambrai follow the D939 road towards Arras. After about 2 kilometres turn left at a large roundabout towards the A2-A26 Motorway. The British Cemetery is about 600 metres down this road on the left.
For more information - CWGC
Royal Canadians buried at the St. Olle British Cemetery are listed below.
Regt. No.
Rank.
Given Names.
Surname.
Date of Death.
Remarks.
CVWM/CWGC Link; Grave Ref.
715251
Pte
William O.
FAGE
28-Sep-18
CVWM
B. 27.
877191
Pte
Archie
MacDONALD
29-Sep-18
CVWM
C. 6.
1033023
Pte
John
McMILLAN
28-Sep-18
CVWM
B. 30.
470490
Pte
Churchill Freeman
WEST
28-Sep-18
CVWM
C. 5.
513505
Pte
Harry
WOODHAMS
30-Sep-18
CVWM
B. 39.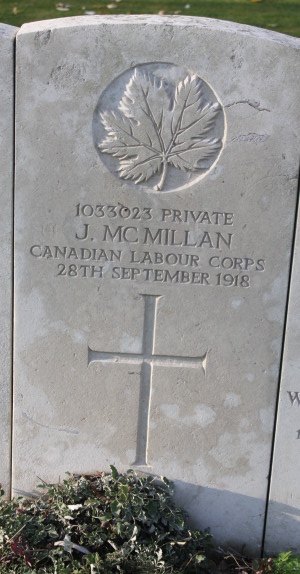 Photos by Maj G., while serving at SHAPE in Mons Belgium.
Pro Patria