The Royal Canadian Regiment and
The First World War - 1914-1919
Denain Communal Cemetery
Denain is a town in the Department of the Nord, next to Valenciennes on the road and motorway towards Cambrai. The Communal Cemetery is situated in the north-east corner of the town approximately 1.2 kilometres from the town centre on the D40, following the route to Oisy and the Lycee A Kastler. The Cemetery will be found at the centre of a junction 20 metres from a traffic light controlled crossroads (D40 and D240). The CWGC plot will be found in the centre of the cemetery.
For more information - CWGC
Royal Canadians buried at the Denain Communal Cemetery are listed below.
Regt. No.
Rank.
Given Names.
Surname.
Date of Death.
Remarks.
CVWM/CWGC Link; Grave Ref.
3203084
Pte
Charles James
WARD
10-Nov-18
CVWM
B. 14.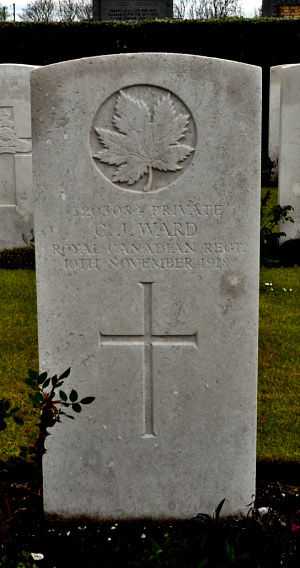 Photos by Alain Dubois, a member of the Canadian Expeditionary Force Study Group
Pro Patria