The Royal Canadian Regiment and
The First World War - 1914-1919
Canada Cemetery (Tilloy-les-Cambrai)
Tilloy-les-Cambrai is a village on the north-western outskirts of the town of Cambrai and a little east of the road to Douai. Follow the N30 (Cambrai Ring Road) from Cambrai to its junction with the Tilloy-les-Cambrai road, the D49, just after the junction of the N30 and the N43 (Douai road). Follow the D49 for approximately 2.2 kilometres, crossing the bridge over the motorway, to a side road on the west-south-west (left) side. The Cemetery lies 200 metres away at the end of the side road.
For more information - CWGC
Royal Canadians buried at the Canada Cemetery (Tilloy-les-Cambrai) are listed below.
Regt. No.
Rank.
Given Names.
Surname.
Date of Death.
Remarks.
CVWM/CWGC Link; Grave Ref.
261452
Pte
Robert Will
ROBINSON
30-Sep-18
CVWM
I. A. 11.
477838
Pte
George Oscar
SINGER
01-Oct-18
CVWM
I. A. 10.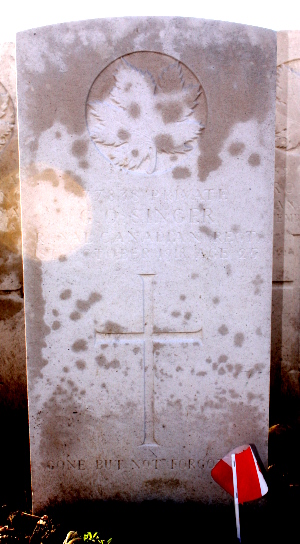 Photos by Maj G., while serving at SHAPE in Mons Belgium.
Pro Patria