The Royal Canadian Regiment and
The First World War - 1914-1919
Auberchicourt British Cemetery
Auberchicourt is a village 11.5 Kms east of Douai on the road to Valenciennes. Auberchicourt British Cemetery is 1 Km west of the village on the northside of the road to Erchin, 300 yards away from the Communal Cemetery.
For more information - CWGC
Royal Canadians buried at the Auberchicourt British Cemetery are listed below.
Regt. No.
Rank.
Given Names.
Surname.
Date of Death.
Remarks.
CVWM/CWGC Link; Grave Ref.
3203016
Pte
Harry Frederick
COOPER
17-Nov-20
CVWM
I. B. 14.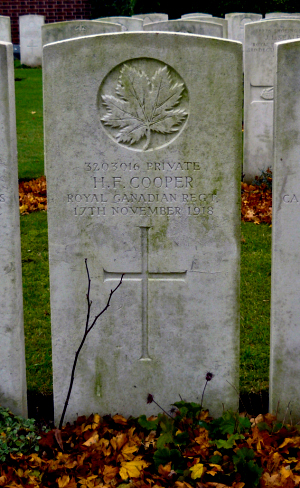 Photos by Alain Dubois, a member of the Canadian Expeditionary Force Study Group
Pro Patria