The Royal Canadian Regiment and
The First World War - 1914-1919
Toronto (Prospect) Cemetery
From Highway 401, exit at Yonge Street South, and go west on St. Clair Avenue West. The cemetery entrance is six blocks west past Dufferin Street.
For more information - CWGC
Royal Canadians buried at the Toronto (Prospect) Cemetery are listed below.
Regt. No.
Rank.
Given Names.
Surname.
Date of Death.
Remarks.
CVWM/CWGC Link; Grave Ref.
477113
Pte
John Percival
BROWN
15-Apr-20
CVWM
Panel 10
477524
Pte
John Carrington
LAWSON
27-Nov-19
CWGC
G.W.V.A. 336.
4648
Cpl
John A.
McKINLEY
24-Apr-15
CVWM
Sec. 17. Lot 4099.
4151
Q.M.-Sgt
John
O'NEIL
08-Mar-17
Prior to Jan 2011, recorded as "Believed to be buried in Canada." Now confirmed by Veterans Affairs Canada to be buried in Toronto Prospect Cemetery.
477876
Pte
William George
STAUGHTON
18-Dec-16
CVWM
Sec. 17. 3885.
477918
Pte
David
THOMPSON
10-Dec-17
CVWM
Grave Reference: 61.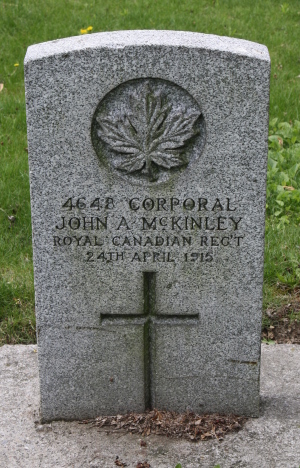 Photos by Captain M. O'Leary, The RCR
Pro Patria