The Royal Canadian Regiment and
The First World War - 1914-1919
Hamilton Cemetery
Access by car the Queen Elizabeth Way Highway, and from there, take the Provincial Route 403 West toward Hamilton/Brantford. Take the Route-6 North/Highway #6 North exit toward Guelph, and head straight onto Provincial Route 6 North. Turn left onto York Road/Regional Route 344. The cemetery is located at 777 York Boulevard.
For more information - CWGC
Royal Canadians buried at the Hamilton Cemetery are listed below.
Regt. No.
Rank.
Given Names.
Surname.
Date of Death.
Remarks.
CVWM/CWGC Link; Grave Ref.
739841
Pte
George Joseph
BAMFORD
08-Jun-19
CWGC
Section S-116-3.
477122
L-Cpl
James
BRYAN
06-Aug-21
CVWM
T. 272. W. half.
477653
Pte
Thomas
MacLEOD
16-Sep-19
CVWM
S. 116. 10.
2381580
Pte
John J.
OMAND
4-Aug-20
To be added to Book of Remembrance, confirmed May 2010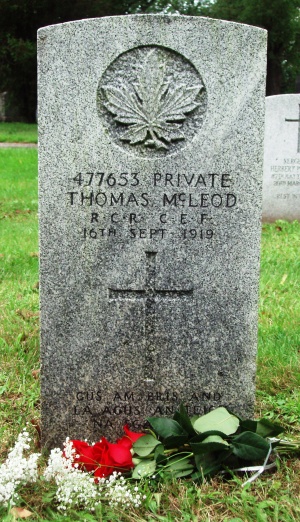 Photos by K.L. Hodgins.
---
Photo by M.M. O'Leary.
Pro Patria