The Royal Canadian Regiment and
The First World War - 1914-1919
Victoria Jewish Cemetery
On Fernwood Road at Cedar Hill Road, opened in the 1860's, was BC's first Jewish Cemetery. (Limited access)
For more information - CWGC
Royal Canadians buried at the Victoria Jewish Cemetery are listed below.
Regt. No.
Rank.
Given Names.
Surname.
Date of Death.
Remarks.
CVWM/CWGC Link; Grave Ref.
15041
Pte
Joseph Louis
VINCE
02-Apr-15
CVWM
Grave Ref: 2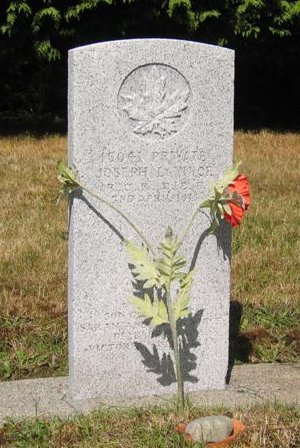 15041 PRIVATE
JOSEPH L. VINCE
R.C.R. - C.E.F
2nd APRIL, 1915
SON OF THE LATE
SARAH AND LOUIS VINCE
OF BALLARAT
VICTORIA AUSTRALIA
Photo by Jack Bates, a member of the Canadian Expeditionary Force Study Group.
Jack Bates also provided the following scan of an article from the Times Colonist published following Private Vince's death.
Pro Patria