The Royal Canadian Regiment and
The First World War - 1914-1919
Vlamertinghe New Military Cemetery
Vlamertinghe New Military Cemetery is located 5 Kms west of Ieper town centre and to the south of the village of Vlamertinge (Vlamertinge is the modern spelling of Vlamertinghe). Vlamertinge is located along the Poperingseweg. From Ieper town centre the Poperingseweg (N308), is reached via Elverdingsestraat then straight over two small roundabouts in the J. Capronstraat. The Poperingseweg is a continuation of J. Capronstraat and begins after a prominent railway level crossing. The cemetery is located after turning left in the village of Vlamertinge onto the Hugo Verriestraat. This road crosses a railway and the main road N38, where the name of the street changes to Bellestraat. The cemetery lies 200 metres on the left hand side of the Bellestraat, after crossing the N38.
For more information - CWGC
Royal Canadians buried at the Vlamertinghe New Military Cemetery are listed below.
Regt. No.
Rank.
Given Names.
Surname.
Date of Death.
Remarks.
CVWM/CWGC Link; Grave Ref.
817704
Pte
Allison Ernest
SHARPE
26-Oct-17
CVWM
XII. F. 14.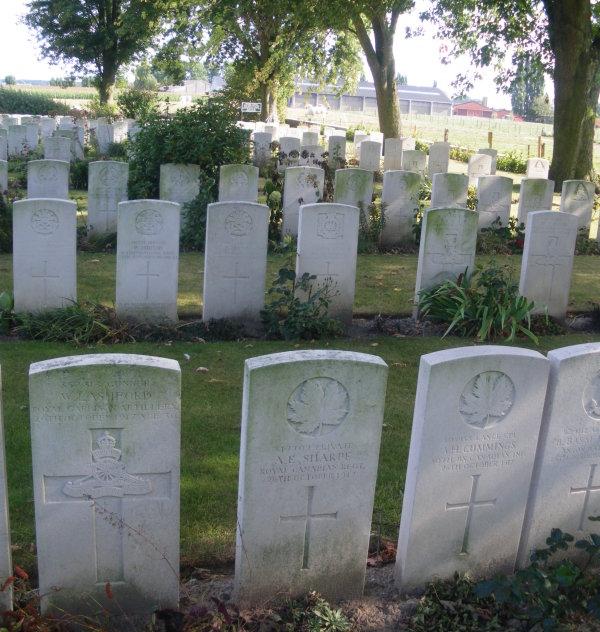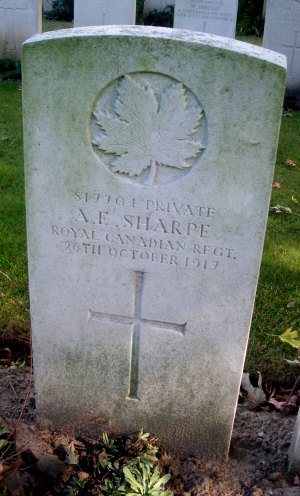 Photos by Bruce Hubbard, a member of the Great War Forum
Pro Patria