The Royal Canadian Regiment and
The First World War - 1914-1919
Sanctuary Wood Cemetery
Sanctuary Wood Cemetery is located 5 Kms east of Ieper town centre, on the Canadalaan, a road leading from the Meenseweg (N8), connecting Ieper to Menen. From Ieper town centre the Meenseweg is located via Torhoutstraat and right onto Basculestraat. Basculestraat ends at a main cross roads, directly over which begins the Meenseweg. 3 Kms along the Meenseweg lies the right hand turning onto Canadalaan. The cemetery itself is located 1.5 Kms along Canadalaan on the right hand side of the road. 100 metres beyond the cemetery at the end of the Canadalaan is the Hill 62 Memorial.
For more information - CWGC
Royal Canadians buried at the Sanctuary Wood Cemetery are listed below.
Regt. No.
Rank.
Given Names.
Surname.
Date of Death.
Remarks.
CVWM/CWGC Link; Grave Ref.
477716
Pte
John
PERRY
28-Mar-16
CVWM
Sp. Mem.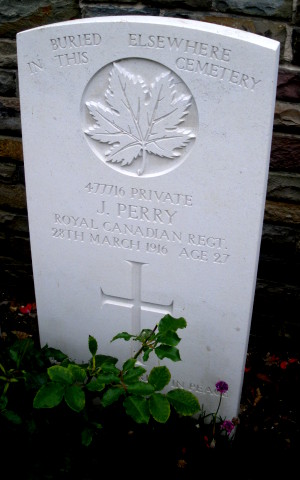 Photos by Bruce Hubbard, a member of the Great War Forum
Pro Patria