The Royal Canadian Regiment and
The First World War - 1914-1919
Poelcapelle British Cemetery
Poelcapelle British Cemetery is located 10 Kms north-east of Ieper town centre on the Brugseweg (N313), a road connecting Ieper to Brugge. Two streets connect Ieper town centre onto the Brugseweg; Torhoutstraat leads from the market square onto the Kalfvaartstraat. At the end of Kalfvaartstraat is a large junction on which Brugseweg is the first right hand turning. The cemetery itself lies 10 Kms along the Brugseweg on the right hand side of the road after passing through the village of Poelkapelle.
For more information - CWGC
Royal Canadians buried at the Poelcapelle British Cemetery are listed below.
Regt. No.
Rank.
Given Names.
Surname.
Date of Death.
Remarks.
CVWM/CWGC Link; Grave Ref.
261331
Pte
John
BRAMHALL
14-Nov-17
CVWM
XXI. A. I.
734255
Pte
Foster Harry
JOLLYMORE
15-Nov-17
CVWM
XXII. B. 13.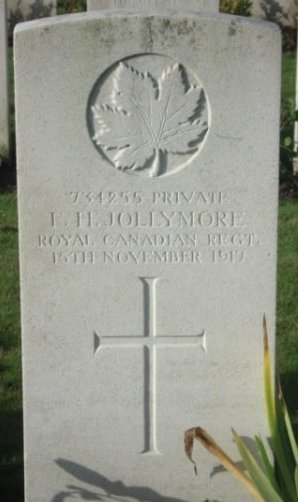 Photos by Grant Tobin, a member of the British Medals Forum
Pro Patria