The Royal Canadian Regiment and
The First World War - 1914-1919
Oxford Road Cemetery
The cemetery is located to the North-East of the town of Ieper. From the station turn left and drive along M.Fochlaan to the roundabout, turn right and go to the next roundabout. Here turn left into M.Haiglaan and drive to the next roundabout. Here turn right into Oude Veurnestraat, this then changes into Diksmuidseweg and Brugseweg drive along this road to the traffic lights. Straight over the lights to the end of the road. At the T junction turn left (still Brugseweg) and continue along this road through the village of Sint Jan (N313). After the village you come to a fork in the road, take the right hand fork and the cemetery is 50 metres along on the right hand side.
For more information - CWGC
Royal Canadians buried at the Oxford Road Cemetery are listed below.
Regt. No.
Rank.
Given Names.
Surname.
Date of Death.
Remarks.
CVWM/CWGC Link; Grave Ref.
401045
Sgt
Robert
DUNCAN
23-Oct-17
CVWM
I. F. 5.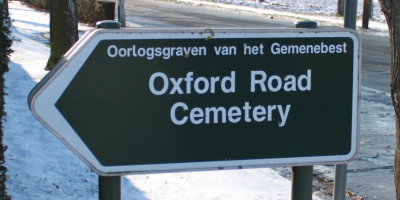 Photos by Fred, a member of the Canadian Expeditionary Force Study Group
---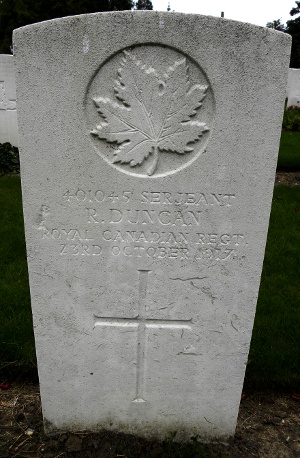 Photos by Robert Pike, a member of the Great War Forum.
Pro Patria