The Royal Canadian Regiment and
The First World War - 1914-1919
Nine Elms British Cemetery
Nine Elms British Cemetery is located west of Poperinge on the Helleketelweg, a road leading from the N33 Poperinge ring road. From Ieper follow the signs to Poperinge. At the traffic lights at the end of the expressway turn left onto the Poperinge ring road, the Europalaan. Follow the ring road to the roundabout and take the second exit. At the next roundabout take the second exit, follow the ring road and take the first turning on the left, the Helleketelweg. The cemetery is along here on the left.
For more information - CWGC
Royal Canadians buried at the Nine Elms British Cemetery are listed below.
Regt. No.
Rank.
Given Names.
Surname.
Date of Death.
Remarks.
CVWM/CWGC Link; Grave Ref.
261142
Pte
Edmund
PASK
30-Oct-17
CVWM
VIII. A. 8.
733609
Pte
Raymond Barss
REDDEN
31-Oct-17
CVWM
VIII. B. 23.
715500
Pte
Robert
ROUTLEDGE
19-Nov-17
CVWM
IX. F. 3.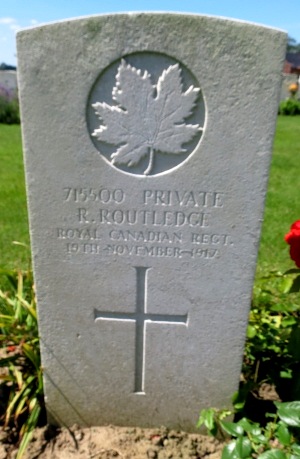 Photos by Grant Tobin, a member of the British Medals Forum; and by Robert Pike, a member of the Great War Forum.
Pro Patria