The Royal Canadian Regiment and
The First World War - 1914-1919
Locre Churchyard
LOCRE CHURCHYARD is located 11.5 Km south west of Ieper town centre on the Dikkebusseweg (N375). From Ieper town centre the Dikkebusseweg is reached via Elverdingsestraat, straight over a roundabout onto J. Capronstraat (for 30 metres), then left along M. Fochlaan. Immediately after the train station, the first right hand turning is the Dikkebusseweg. On passing through the village of Dikkebus the road continues for 6 Km to the village of Loker. The church and churchyard are located at the side of the road in the village of Locre (Loker) itself.
For more information - VAC
Royal Canadians buried at the Locre Churchyard are listed below.
Regt. No.
Rank.
Given Names.
Surname.
Date of Death.
Remarks.
CVWM/CWGC Link; Grave Ref.
477529
Pte
Eugene
L'ECUYER
28-Feb-16
CVWM
I. E. 7.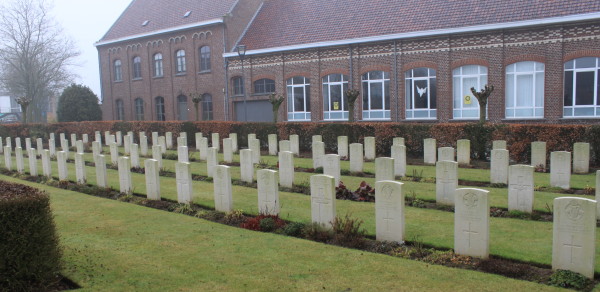 Photos by Fred, a member of the Canadian Expeditionary Force Study Group
Pro Patria