The Royal Canadian Regiment and
The First World War - 1914-1919
Lindenhoek Chalet Military Cemetery
Lindenhoek Chalet Military Cemetery is located 9 Kms south-west of Ieper town centre on a road leading from the Kemmelseweg (N331), connecting Ieper to Kemmel. From Ieper town centre the Kemmelseweg is reached via the Rijselsestraat, through the Lille Gate (Rijselpoort) and straight on towards Armentieres (N365). 900 metres after the crossroads is the right hand turning onto the Kemmelseweg (made prominent by a railway level crossing). Immediately after passing the village of Kemmel lies the Gremmerslinde, a right hand turning leading from the N331. The cemetery lies 500 metres along the Gremmerslinde on the right hand side of the road.
For more information - CWGC
Royal Canadians buried at the Lindenhoek Chalet Military Cemetery are listed below.
Regt. No.
Rank.
Given Names.
Surname.
Date of Death.
Remarks.
CVWM/CWGC Link; Grave Ref.
477492
Pte
John
KERNICK
18-Feb-16
CVWM
I. H. 4.
477500
Pte
Fred
KNOX
18-Feb-16
CVWM
I. H. 5.
477714
Pte
Herbert Scott
PENNEY
07-Feb-16
CVWM
I. H. 3.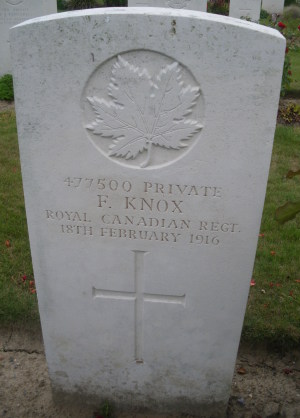 Photos by Bruce Hubbard, a member of the Great War Forum
Pro Patria