The Royal Canadian Regiment and
The First World War - 1914-1919
Brandhoek Military Cemetery
Brandhoek Military Cemetery is located 6.5 km west of Ieper town centre on the Branderstraat, a road leading from the N308 connecting Ieper to Poperinge. From Ieper town centre the Poperingseweg (N308) is reached via Elverdingsestraat then directly over two small roundabouts in the J. Capronstraat. The Poperingseweg is a continuation of the J. Capronstraat and begins after a prominent railway level crossing. 6 km along the N308, after passing the village of Vlamertinge and just beyond the church in the hamlet of Brandhoek, lies the left hand turning onto the Grote Branderstraat. The cemetery is located 300 metres along the Branderstraat on the left hand side of the road, beyond the N38 dual carriageway, which it is necessary to cross.
For more information - CWGC
Royal Canadians buried at the Brandhoek Military Cemetery are listed below.
Regt. No.
Rank.
Given Names.
Surname.
Date of Death.
Remarks.
CVWM/CWGC Link; Grave Ref.
477178
Pte
Edward Alfred
CLAYTON
03-Apr-16
CVWM
II. A. 7.
406112
Pte
John James
KENNY
20-Apr-16
CVWM
II. D. 9.
477758
Pte
William Garfield
RANKIN
24-Apr-16
CVWM
II. D. 11.
477799
Pte
John Hawley
ROSS
24-Apr-16
CVWM
II. D. 10.
477884
Pte
Thomas
STEWART
24-Apr-16
CVWM
II. D. 12.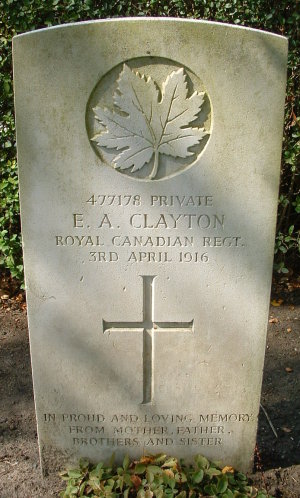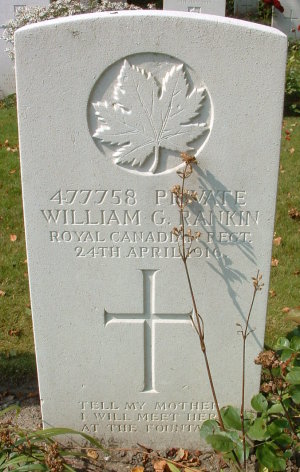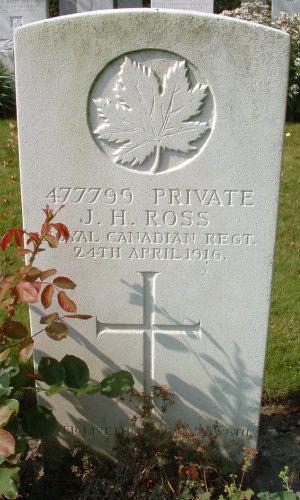 Photos by Dave Naden, a member of the Great War Forum
Pro Patria