The First World War
Officers of The Royal Canadian Regiment
Lieut. Donald De Vere Shields
Soldiers of the First World War database entry - D.D. Shields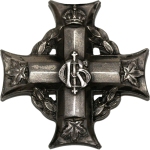 Service:
Service in the ranks: 9 Nov 1915 to 22 Jun 1918
Attested for overseas service with the 117th Overseas Battalion, C.E.F., 7 Dec 1915
Gazetted Lieut., 21 Sep 1918
Course: O.T.C. Bexhill, 3 Oct 1918
Arrived France, 22 Oct 1918
Joined The R.C.R. from C.C.R.C., 28 Oct 1918
Killed in action, 10 Nov 1918
Capt. Shields is buried in the Mons (Bergen) Communal Cemetery; Belgium.
Canadian Virtual War Memorial: D.D. Shields
Royal Bank of Canada Honour Roll (Source)
LIEUTENANT SHIELDS, born at Bear River, Nova Scotia, June 8, 1895. Home in Liverpool, Nova Scotia. Joined Liverpool branch, June 12, 1912. Enlisted from Bridgewater, Nova Scotia branch, December 1, 1915, in the 112th Battalion. Present at Lens, Hill 70, and Passchendaele. Killed in action November 10, 1918, the last night of the War, at the capture of Mons.
Date of Birth - 8 Jun 1895